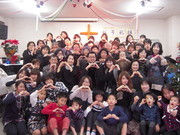 Language assistance available upon request. (English, Korean, Portuguese, Spanish, French and German)
From April 1st. 2012, we have SUNDAY SERVICE at Nagitsuji-Chapel!
(Access to Nagitsuji-Chapel: From Nagitsuji station(exit2)Kyoto-Subway Tozai line, one minute walk to the North. Takenaka Bldg. 4F. See the map on the front page!)
     Sunday Morning(Nagitsuji-Chapel)
            11:00 ~12:30
     Sunday Evening(Nagitsuji-Chapel)
            17:45~19:15
     Wednesday(Church)
            19:00~20:30
     Toddler - Elementary
             Every Sunday 9:00~10:00
     Junior High - College
             2nd&4th Sunday 14:30~15:15
     Tuesday~Friday      6:00am~ 7:00am
     Alpha Course&Preparation for Baptism
      1st&3rd Sunday 14:00~15:15
     2nd Thursday&Friday 19:30~21:30
212-6 Nishikanegasaki, Kanshu-ji
Yamashina-ku, Kyoto-Kyoto
Zip:607-8221
Tel/Fax 075-502-8126
Email kyotogracebible@yahoo.co.jp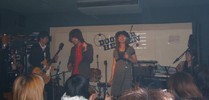 Graceman is a gospel unit from Kyoto Grace Bible Church. The members are Mayumi Ogawa, Atsuko Ueda and Eriya Seki. Their catchy melodies and heavenly harmony will send you great Love of Jesus. Their new sinle 'Kimino sobade utau' is now on sale!  Let's root for Graceman!! They also sing a commercial song of Subway-sweets.
For more information, visit their web site!
→ http://ameblo.jp/graceman-net/
☆ Lessons in July:Fri. 15th 19:30~21:00
                 Fri. 22nd 19:30~21:00
☆ place:Kyoto Grace Bible Church(http://kgbc.jimdo.com/)
      (15min. walk from Nagitsuji-Station, Subway Tozai-line)
☆ songs :we will practice from standard gospel songs likeAmazing Grace , Oh happy day to our original songs.
☆ fee:1000yen (500yen for students) 
☆ things to bring :pen, own drink
☆ contact: bygrace_gospel@yahoo.co.jp (Uehara)
Date: Sunday, November 23

Time: 11:00~
Guest Speaker: Pr. Kiichi Ariga

Place: Kyoto Grace Bible Church Nagitsuji Chapel
          京都グレースバイブルチャーチ 椥辻チャペル
Fee: Free

Anybody is welcome! Just hop in!!

We have a secret special guest this Christmas! And of course, that well known guy with white beard might appear?! Just come to celebrate the real Christmas★
Date: Saturday December 6th,  2014
Time: 14:00~16:00
Place: Kyoto Grace Bible Church (Main Church)
Fee: Free
You can't miss this special Christmas live presented by EYS!!

Tickets are limited so contact below a.s.a.p!!

Date: Saturday December  20th,  2014

Time: Opens at 17:30/ Starts at 18:00
Place: Kyoto Daigo Koryu Kaikan
          京都市醍醐交流会館
Entrance fee: 2500yen

Please contact

eriya_yoshiya_shinya@yahoo.co.jp